The Huffington Post: The Old Bank Branch Just Ain't What She Used to Be
Banking as usual is taking some heat. The battle cry "innovate or die" is being chanted by fintech startups, big tech companies, retailers, and even the conservative banking industry, all looking for a way to disrupt the traditional landscape. In the not too distant future we may see the demise of currency as we know it, replaced by some weird amalgamation of blockchain ledgers, mobile and wearable solutions, reward and loyalty programs, and Internet of Things payment reconciliation.
For now, your next banking experience may be transacted from an Apple watch or by recognition of your face to a robotic bank teller. It may come at 3 a.m.  It may involve a transfer of money across the globe or a split payment amongst friends with 5 different devices.
On the downside, no one will want to pay much of a fee for the privilege of using these services.  On the upside, the millions of folks who don't use banking services very much may change the way they manage their money. Just ask Ed Robinson, co-founder of StashInvest, a startup for first-time investors. He and his partner abandoned Wall Street and find that the customers of their three-month old service are mostly 18-35-year-olds with an average of $23K net worth. Not your typical investor profile.
Walk by your bank branch and it's likely to look more like a deserted storefront than a hub of commerce. The need for a bank to be a physical location stands as a last vestige in a "thingless" world. Think about it-Uber (owns no cabs), Airbnb (owns no hotel) and Facebook (produces no content of its own)-why should a bank be different?
But when you're talking about money which is deeply ingrained in our culture, change is a bit more complicated, intensive and emotional. According to ModoPayments, a new payment system that allows the banking world's many Tower of Babel currencies to transact, most payments are still conducted using shockingly old hardware and software and scads of non-interoperable systems.
2017 will turn out to be a pivotal year for how we deal with our finances.  Swiping a plastic card is already on the road to antiquity and the assortment of new payment systems is dizzying having us spread money all over the place.
Here are the top 7 reasons why everyone needs to know about the changes to the "old bank" you used to know:
The Rise of Online and Mobile Banking
It's pervasive. In 2015, weekly mobile banking exceeded weekly branch banking visits. Powered by smartphones and tablets, 1 in 10 Americans used mobile banking for the first time, amounting to 25 million new online bankers. While Millennials (78%) used a bank's website or online portal, Gen Xers and Baby Boomers were close behind at 75 percent and 67 percent, respectively. Banks, like Bank of America, are teaching customers how to bank online to convert their customers into online bankers.  On city streets, your next apartment building is likely to be a refurbished bank.
Unbundling of Bank Services by New Technology Providers
Hundreds of financial technology startups are unbundling banking by providing individual services for everything, from loans to wealth management to credit scores. They'll handle your payroll or benefits, lend money, or transfer your currency across the world. Many will continue to use traditional banks as the underlying "plumbing," but ultimately the plumbers may find themselves fixing leaks instead of acquiring new customers unless they can figure out how to unbundle as well.
This graphic from CB Insights is just one of many "new world of fintech" diagrams on the web. It's a jungle of new opportunities that take slices of the banking industry's traditional business away from them and serve up diversity in consumer payment preference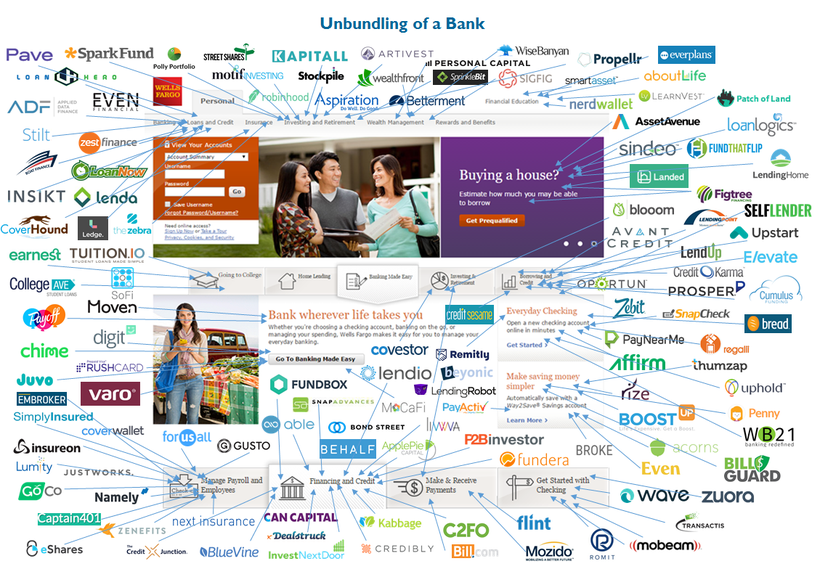 Expanded ATM, POS and Retail capabilities
Starbucks isn't a bank, but its Starbucks Rewards loyalty program provides the company with as much cash on hand as many banks. There's a fun TED Talk  that looks at a future where the currency is as likely to be Nike Sweat Points or any other brand customers love than the dollar.
ATMs are getting smarter and more human-like (think robots), capable of better security and more and more services.  Retail POS systems can give you cash back, loyalty rewards and a host of things you might find more useful than a trip to the bank. 70% of US customers use an ATM to view account balances and transactions. Nearly half (46%) use ATMs to transfer money from one account to another. And 64% use ATMs to deposit checks.
Looking at the larger picture, the data gathered from these new transactions can be analyzed and offered back to the customer in exchange for things they want. It's about loyalty and satisfaction if you understand your customer.
Peer-to-peer payments systems are up 80%, cutting out the middleman (bank) as the supplier of loans. Companies like Orchard, Upstart, Prosper, LendingClub, and PayPal are good examples. Social platforms including Facebook, now let you exchange money with your friends and family directly.
New payment technologies and the Internet of Things
Digital wallets, wearable payment systems like rings and bracelets that you can swipe instead of inserting a credit card are beginning to be adopted. Along with the new wallets, we'll also see e-commerce conducted between your connected devices on the Internet. Scenario in the not too distant future?  How about the fridge that orders your groceries as it senses you're running low? Or the cars (already being demonstrated as concepts) that use Visa and MasterCard payments to order a pizza or pay the parking meter. Get ready for our things to start paying each other.
Bitcoin in its current incarnation may or may not succeed, but it's pretty clear that we're moving quickly to an open ledger system based on some form of blockchain technology. Skipping to end of the chapter, money becomes whatever you and I agree has value.  The language of currency is being rewritten as I type.
The UnderBanked and UnderServed
Finally, one of the benefits of the new fintech community is the door is not closed on the non-wealthy. While the wealthy investor has certainly warmed up to the idea of algorithms and robots managing their investments, the driver of wealth investing automation focuses on opening the doors to people who never saved before.  Startup companies like FutureAdvisor and Betterment let you open an account with much lower minimums and let you transfer money with no penalty. The obstacles to become a member of the financial community are evaporating, but unless fintech and banks manage this process, it runs the risk of being a race to the bottom of "Crazy Eddie" like come-ons to gain your loyalty.
I know. It's a headache inducing set of scenarios. Smarter folks than me will gather at this year's CES in Las Vegas at The Digital Money Forum  to look at where the high tech future of money is heading.  We'll be drilling down into each one of these areas as if the future of commerce depended on it. I hope you'll join us.
Robin Raskin is founder of Living in Digital Times (LIDT), a team of technophiles who bring together top experts and the latest innovations that intersect lifestyle and technology. LIDT produces conferences and expos at CES and throughout the year focusing on how technology enhances every aspect of our lives through the eyes of today's digital consumer